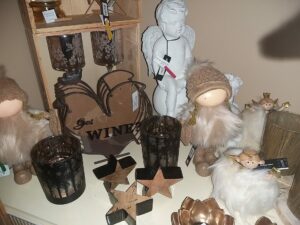 Geschenken te verkrijgen bij Zot van wijn.
Een verjaardag, een geschenkje voor Pasen, Kerstmis, moeder- vaderdag of zomaar …  naargelang de seizoenen en  gebeurtenissen zullen er regelmatig nieuwe geschenken aanwezig zijn.
Er zijn reeds geschenken vanaf €3 te verkrijgen.  Dit al dan niet in combinatie met één of meerdere flessen  wijn.  Op bestelling zijn er cadeaumanden te verkrijgen.
De geschenken staan niet op de site, deze zijn enkel te verkrijgen in de winkel.  Natuurlijk kan je telefonisch of via mail informeren en sturen we je enkele ideetjes door.
Een veilig en dankbaar kado: bestel een geschenkbon van ZOT VAN WIJN.